Planning a visit to Prestonsburg and our surrounding communities? Our attractions will meet the highest tourist expectations. Visitors can tour country music stars home place, tour an 1800's recreated Appalachian settlement (working farm), historical homes and civil war sites, scenic driving trails, enjoy musical and theatrical performances at state-of-the-art venues, tour a local artisan museum, enjoy horse shows and much, much more. Below are some examples of our tourist favorites:
East Kentucky Science Center & Planetarium
7 Bert Combs Drive
Prestonsburg, KY 41653
Telephone: 606-889-8260
Email: srusso0002@kctcs.edu
Website: www.bigsandy.kctcs.edu/EKSC
Looking for an educational adventure that its out of this world? Visit the East Kentucky Science Center on the campus of Big Sandy Community and Technical College in Prestonsburg and we can take you to the stars or even the edge of space and time with one of our many exciting planetarium shows. For teachers, a variety of educational programs are available. Check out our awesome laser light shows. With weekday and Saturday hours, get your family and friends together to come visit. 
Jenny Wiley Theatre

121 Theatre Court 
PO Box 22, Prestonsburg, Ky 41653
Telephone: (606) 886-9274
Toll Free: 1-877-225-5598
Email: groups@jwtheatre.com
Website: www.jwtheatre.com
Jenny Wiley Theatre is Eastern Kentucky's only professional theatre offering year-round productions. Since 1964, summers have been magical under the stars at the Jenny Wily Amphitheatre, located in the beautiful Jenny Wily State Park in Prestonsburg. In 2014, our new Mainstage indoor theatre opened in Pikeville. Located at the corner of Second Street and Division Street, this facility offers productions on a year-round basis. Our Pikeville locations is a result of a partnership with the City of Pikeville. Jenny Wiley Theatre is dedicated to enriching, educating, and entertaining the community through the performing arts. 
StoneCrest Golf Course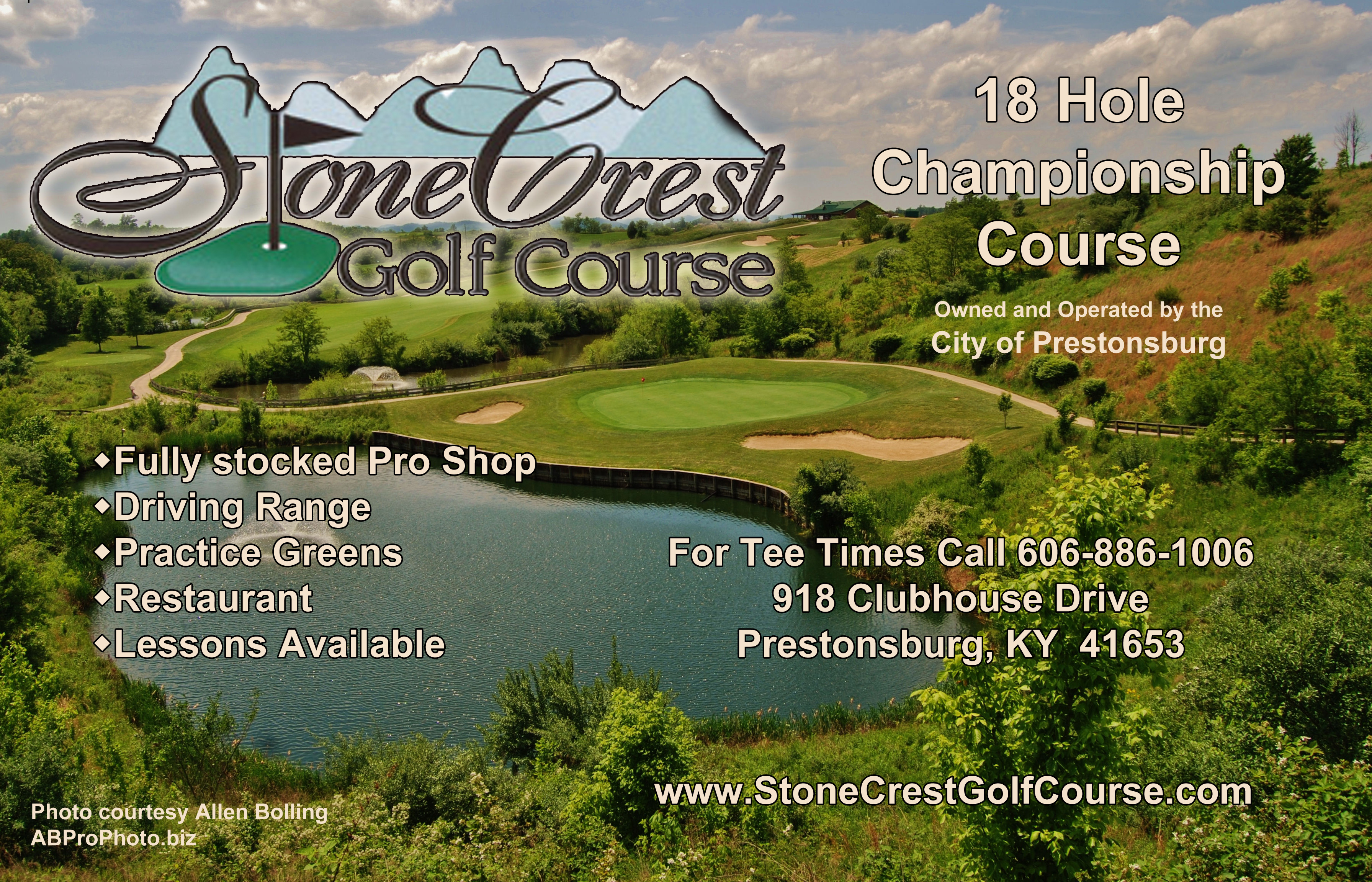 911 Clubhouse Drive
Prestonsburg, KY 41653
Telephone: 606-886-1006
Website: www.stonecrestgolfcourse.com
StoneCrest Golf Course is a unique facility owned and operated by the City of Prestonsburg, located in Southeastern Kentucky. The course sits on 700 acres of mountain top land. The course offers amenities such as a pro shop, club repairs, practice green, driving range, clubhouse and lounge.Built on a reclaimed strip mine, the course offers spectacular views of the surrounding mountains and valleys. The championship layout plays to a Par 72 and is over 7,000 yards long from the black tees. However, with four other sets of tee boxes the course is playable for all skill levels. Opened for play in 2001 the course is already recognized as one of the finest in Kentucky and has played host to both the Men's and Women's State Amateur Championships in its' brief history.
201 Speedway 5434 Route 201
Sitka, KY 41255
Telephone: (606) 265-5201 (on race day)
Website: www.201speedway.net
Are you feeling the need for speed? 201 Speedway is a 3/8 mile clay oval dirt track located on Route 201 in Sitka, Ky, just north of Paintsville, Ky. The track features racing in the Super Late Model, Open Wheel, Bombers, and 4-Cylinder classes. The track is open and racing most Saturday nights throughout the Summer and early Fall. 
Country Music Highway Museum
100 Stave Branch
Staffordsville, Ky 41256
Telephone: (606) 297-1469
Website: www.us23countrymusichwymuseum.com
U.S. 23 is a designated National Scenic Byway honoring country music entertainers who were born or lived along Route 23. The U.S. 23 Country Music Highway Museum was opened in April, 2005, and is located next to the Paintsville Information Center off the Paintsville exit of U.S. 23. The Museum offers fans an opportunity to see displays created to honor many of the country music entertainers who consider U.S. 23 their home. 
Loretta Lynn Homeplace
Millers Creek Road 
Van Lear, KY 41265
Telephone: 606-789-3397
Website: www.kentuckytourism.com
There is only one birthplace of Loretta Lynn. She is the woman made famous by songs adorning her lifestyle as a "Coal Miner's Daughter" and what it means to be a mountain woman. Raised on Butcher Holler in Van Lear, Ky, Loretta Lynn has become world famous, still performing today in a fashion that is as timeless as the songs the world loves her for. Her homeplace sits today just as it did many years ago and is maintained by her brother, Herman. Admission is $5 and no appointment is necessary to visit.